NSAA Section 1 - Your Guide to the First Part of the NSAA Exam
Written by: Matt Amalfitano-Stroud
The NSAA will be a major hurdle in your journey to studying Natural Sciences or Veterinary Medicine at Cambridge. Thankfully, it may not be as tough as it first seems, as you'll have some level of freedom to choose the questions you answer. Section 1 will test your mathematics skills and allow you to decide which scientific field to answer questions on. Let's have a look at what you need to revise and how you can decide which questions to answer. 
The NSAA is a very specific assessment that very few students in the UK will take. It's only used at one University and for just two courses, so experience from previous applicants is limited. Let's take a look at the basics of the test first.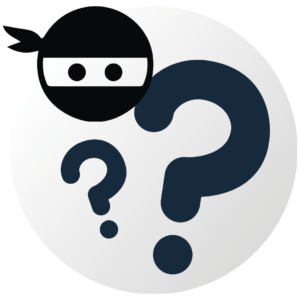 The Natural Sciences Admissions Assessment (NSAA) is the exam that must be taken by all Cambridge applicants for Natural Sciences and Veterinary Medicine. The NSAA is a pre-interview assessment which will be sat on October 19th. This is a few weeks earlier than previous years so be aware of this when preparing.
The purpose of the assessment is to test your mathematical and scientific knowledge and allow the Cambridge admissions team to determine your suitability for your chosen course. Both courses are demanding and require an in-depth understanding of many different scientific fields, so doing well in the NSAA is a good sign that you'll be able to succeed during your time at Cambridge. 
The assessment is split into two sections, Section 1 and Section 2. Both sections will require you to choose a scientific field to answer questions on, with the options being Physics, Chemistry and Biology. These are referred to as "parts" and only one of these three choices are taken in each section. Section 1 will also require you to show your mathematical abilities in a mandatory first part.  
Each part in Section 1 consists of 20 multiple choice questions that will test a range of skills and knowledge. Each section will last 60 minutes, leading to a time limit of two hours for the assessment. The time from one section cannot be used in the other, so each hour will be dedicated to a single section.
The NSAA is scored on a scale of 1.0 to 9.0, with each part being scored separately. This score is determined from the raw marks from each part, with every correct answer increasing your score on the scale. The conversion between raw marks and the final score differs between each part. Here you can see the conversions for each part of the exam. 
NSAA Section 1 Score Conversion
NSAA Section 2 Score Conversion
There is no official passing or failing score, but different colleges within Cambridge may have different scoring standards so it's always best to aim high. 
Before entering the exam, you'll need to make sure you have a soft pencil and eraser. Calculators are not permitted for either Section, but a periodic table will be provided for you in Section 2.
You can learn more about the NSAA in our Definitive NSAA Guide.
WHAT TO EXPECT FROM THE NSAA SECTION 1
Section 1 is the longer of the two sections and will test you on both your mathematics and scientific abilities. Here's a quick rundown of what you can expect to find.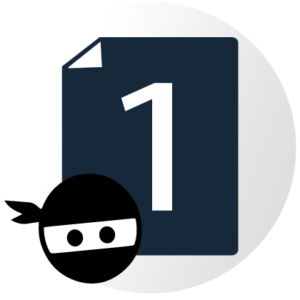 Section 1 of the NSAA will require you to complete two parts, consisting of 20 questions each. Each question will be multiple-choice and will be worth a single point. Applicants are advised to answer every question as there is no penalty for incorrect answers. 
Part A is required for all applicants and is centred around general mathematics. The questions here will not test you on any form of scientific knowledge and will instead require pure mathematical skills. 
You will then have to choose one of three parts, based on Physics, Chemistry and Biology. 
These sections will test you on a variety of scientific facts and disciplines based on the field you choose. Each of these parts will also be 20 questions long, so before you finish Section 1 you should make sure that you have answered 40 questions altogether. Answering questions outside of your chosen part will not award you any additional points and may put your application at risk.  
 Here are some examples of a typical page from each part of Section 1: 
TMUA Section 1 Page Examples
As you can see, each page will contain one or two questions alongside their potential answers. Each part is clearly separated to avoid confusion, so double-check that you're on the right part and have answered all of the related questions.   
Answers will need to be marked on the answer sheet, which will be provided to you separately before the assessment starts. You will be allowed to write your working out on the question paper, but no additional paper is permitted, so be sure to make the most of the space available. 
Start your NSAA Journey on the right foot!
With our NSAA Preparation Platform, you'll have access to over 100 guides and over 1,200 practice questions for every part of the NSAA. Optimise your NSAA revision strategy now with a free NSAA.Ninja account.
WHAT DO I NEED TO KNOW FOR SECTION 1?
The amount of knowledge to learn between the three core sciences is staggering and adding general mathematics on top of that makes for a potentially jam-packed revision schedule. Thankfully, you can narrow your revision down to just one of these sciences. But what should you be revising for each topic? Let's find out!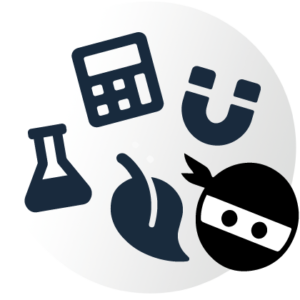 As we've seen already, the mathematics portion of the assessment is required for all applicants, but you'll then be free to choose which of the three core sciences you will answer questions on. Before making any decisions on how you'll tackle your revision, let's take a look at what each part will have in store for you.  
This part of the exam will test your general mathematics skills and will not require any scientific knowledge to supplement answers. All applicants will need to complete these questions so revision of the following topics is essential: 
The first of the three optional parts, physics is the core science that tackles matter, force and energy. Much of your mathematical knowledge will come into play when working with physics due to the number of equations used when determining figures. The topics you will need to revise for physics include:
Chemistry is the study of matter on a microscopic scale, including its properties and behaviours. Various aspects of chemistry overlap with physics, although many new concepts and theories will become essential knowledge for you if you choose this part of the assessment. You'll want to revise the following:
Biology is the study of living organisms and covers many aspects of physical life. Often referred to as the "Natural Science", you can imagine that biology will be important throughout your university course. To prepare for these questions, you should revise the following: 
These are the key topics that you will need to have an understanding of for Section 1. A fully comprehensive list of everything you'll need to know has been created by the developers of the NSAA, the Cambridge Assessment Admissions Testing team.  
Bear in mind that Section 2 of the assessment has additional, advanced areas of each science to revise. Our NSAA Section 2 guide covers everything you'll need to know for the second half of the exam!
HOW SHOULD I REVISE FOR THE NSAA SECTION 1?
Now that you know what you need to revise for the assessment, it's time to figure out how to go about revising most effectively.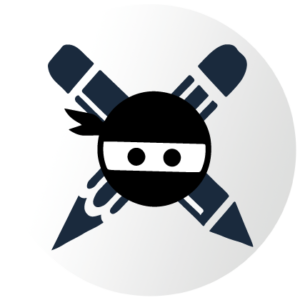 1. Decide What to Prioritise
As we now know, you'll have a choice between the three core sciences when completing Section 1. This choice will give you a bit more freedom to organise your revision in a way that suits your abilities. 
But how should you make that decision? For some, the answer will be simple, as they will have a certain subject or subjects that they are most confident in. Specialising in one direction can certainly help when preparing for the NSAA, but make sure you have at least a basic understanding of all three sciences. It's not wise to rely on your abilities in a single subject for several reasons.
Firstly, you don't know what questions will be in the test until the big day, so there's always a chance that your chosen subject could catch you off guard with things you didn't prepare for. In a situation like this, you'll want to have prepared your knowledge of the other two parts, as you may have an easier time answering those questions instead. 
It also won't be good preparation for other aspects of your application, as the admissions team will expect you to have a good knowledge of all aspects of natural sciences. Narrowing your revision down to a single subject will not only hurt your chances of scoring well in the NSAA but will also negatively impact your study as a whole. 
With that in mind, it is still a good idea to prioritise one of the three sciences to give you the best chance at succeeding on the assessment. You'll hopefully have an area that you're most comfortable or knowledgable in, so leading your revision with that will help you with your confidence. 
2. Develop a Revision Plan
It's incredibly easy to encounter burnout when revising for extended periods of time, so you'll need to make a revision plan based on your own abilities in order to avoid sabotaging your chances of success.
Your first move should be to create a schedule based on what you think you'll need and how much you'll be able to achieve. Everyone has different ways of learning and revising, so your revision schedule needs to be unique to yourself. Depending on how you want to approach the assessment, you may want to perfect your strongest science or increase your skills in your less confident areas. Remember that mathematics is required for everyone taking the test, so ensure you dedicate some time to touching up your maths abilities. 
Also remember that you'll need time to rest, no matter how important the task is. Your schedule should include downtime to avoid burning out in the middle of your preparation. Also, it's never a good idea to try and cram everything in at the last minute, this will do very little to help you get a good score.    
Don't worry if you're still not sure how your plan should go! Our NSAA 6-Month Preparation Timeline will show you everything you need to know!
3. Answer Lots of Practice Questions
Testing your knowledge with actual questions is an incredibly important aspect of any exam preparation. It will help you to understand specific topics in more depth and will give you a chance to catch out errors in advance.
If you're feeling unsure on why certain answers are correct, you can try questions with worked solutions, which provide a full explanation of why an answer is correct and why the other options aren't. No matter how well you know a topic, it's always handy to validate your knowledge by confirming your answers are correct.
Practice questions can come from a variety of places, including Exam.Ninja's NSAA Preparation Programme, which features over 1,200 questions covering both Sections of the assessment. Each question provides expert analysis into the correct and incorrect answers to help you understand the meaning behind the solution. 
You'll want to know the NSAA inside and out before stepping into the assessment. That's why you should be taking past papers under exam conditions.
Sitting an assessment within the 120-minute time allowance will give you an idea of how well you're able to perform under pressure and will allow you to see how you can change your methods to give yourself enough time in the test. It will especially be important to allow yourself some extra time to check your answers, perhaps around 5-10 minutes per section. Making basic mistakes in exams is all too common but checking through your answers will give you a much better chance of catching out errors.  
Completing practice questions is a fantastic revision technique, as we've already discussed, but completing official past papers will give you an accurate idea of the kind of questions you can expect to see, as well as the layout of the exam. 
Get access to fully worked NSAA practice questions and past papers.
With the NSAA Preparation Platform, you can get access to over 1,200 practice questions spanning both sections of the test, each with a worked solution. You'll also have a collection of full past papers to complete as many times as you want.
Start your NSAA revision now to get ahead the competition! 
EXAMPLE PRACTICE QUESTIONS
Let's take a look at a few practice questions that will give you a better idea of what you can expect to find when you take the NSAA. We've prepared one question from each part, complete with a worked solution.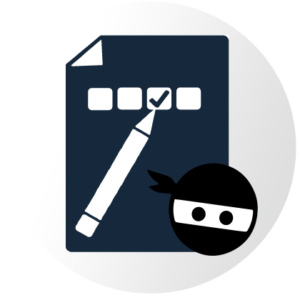 Part A – Mathematics Practice Question
Part B – Physics Practice Question
Part C – Chemistry Practice Question
Part D – Biology Practice Question
You should now have a good understanding of what to expect now, so the next step is to get on with your preparations! Don't forget, Section 2 will be sat directly after Section 1. A lot of knowledge thankfully overlaps, but you will want to make sure you have a more advanced understanding of the science you choose to answer questions on. 
The key to succeeding in the NSAA is to understand as much as you can about each natural science, even if the assessment only requires answers for one or two of them. You need to plan your revision to suit your current abilities so you can make the most of the time and resources you have available.    
Get a head-start on your NSAA revision with our comprehensive preparation platform.
Exams.Ninja's NSAA Preparation Platform allows you to improve your application and revision strategy in one easy to use platform. With the Preparation Platform, you'll get access to: 
Training Temple- exclusive tips, amazing revision notes and over 100 expert tutorials to guide you every step of the way.
Practice Dojo- over 1,200 practice questions that cover both sections of the assessment. Each one provides fully worked solutions to help you understand what every answer means. 
Exam Arena- Attempt a collection of NSAA Past Papers in a simulated exam scenario. You can try them an unlimited number of times to see how you're progressing.
Start your NSAA preparation today to maximise your chances of success.