THE WORLD'S BEST ECAA PREPARATION PLATFORM
THE WORLD'S BEST ECAA PREPARATION PLATFORM
Platform designed by Chief Ninja - Ali Abdaal.
LEARN THROUGH
THREE KEY SECTIONS
Full tutorials, strategy guides, comprehensive lessons and insider tips on all the relevant aspects of the ECAA.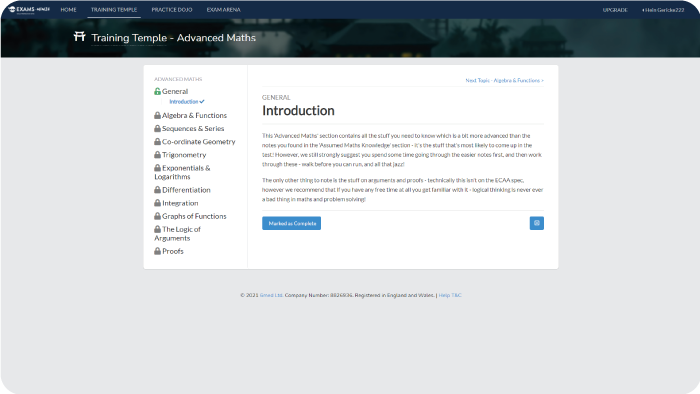 Learn how to tackle each section of the ECAA with bitesize tutorials that will help you understand vital concepts.
Mark lessons you've already finished as complete so you can just focus on the areas you need to work on.
We keep things short and simple – the Ninja way. Why spend hours reading 10,000 words when 500 can do the job.
1,000+ questions for all sections of the ECAA, complete with worked solutions for you to learn why answers are right.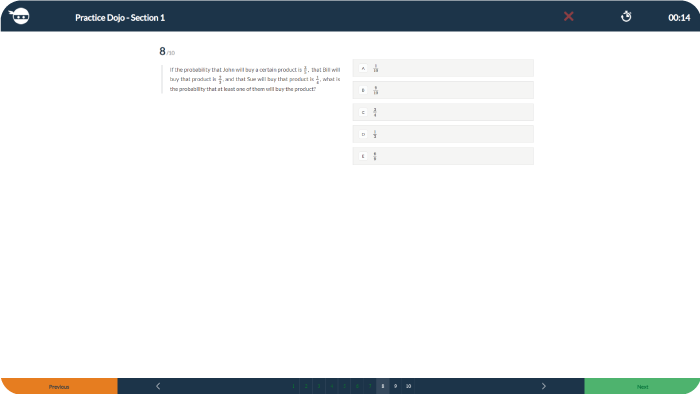 Apply the expert concepts and tips you pick up in the Training Temple on hundreds of ECAA practice questions.
We have taken great care to ensure the difficult of our practice questions match the difficulty of the real exam.
Every question on the Practice Dojo comes with fully worked solutions from an ECAA expert. Learn from your mistakes!
Practice in a simulated test environment - answer timed, real past papers and get an estimated ECAA score.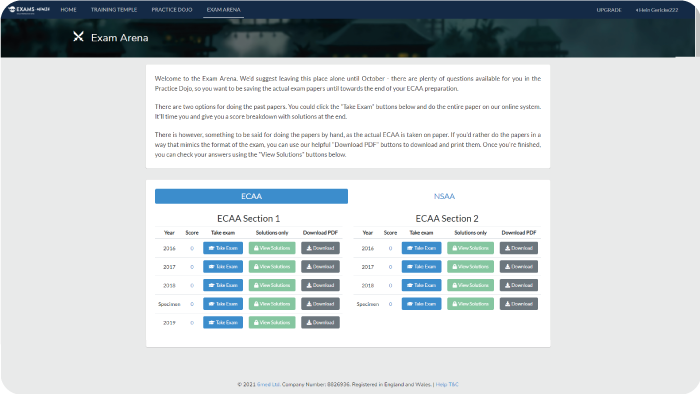 You'll have access to ECAA past papers to truly test your mettle (these all have fully worked solutions too!).
After each exam, you can see what score you would have achieved so you can have a realistic view of your progress.
Though the ECAA is a paper-based exam, most students find it more effective to practice on our digital platform.
STEP INTO THE REAL WORLD WITH
THE ECAA NINJA EXAM SIMULATOR
See what ECAA score you are achieving after you sit a real past paper. Find where you need to improve, then head to the Training Temple or Practice Dojo.
The ECAA is a timed-contrained exam. Our digital platform allows you to get used to the exam under timed conditions so you get a feel for how long you have.
Many students like to turn to NSAA past papers since the content and questions are very similar. We've already added these to the platform. This is painless preparation.
GET ON TOP ON YOUR
ECAA PREPARATION
Your Exams.Ninja personal dashboard will show you exactly how far through each section you are so you can plan your revision time accordingly.
We get it. Revising for the ECAA isn't exactly laying on a beach in the sun, but it doesn't have to be horribly painful either! We've made the platform as engaging as we can to take (some) of the pain away.
LEARN THE BEST
STRATEGIES FOR EACH SECTION
Our ECAA tutorials are written by expert tutors who scored in the top 10% for the exam in their admissions cycle. Fortunately, they want to share their tips with you!
You're not always sat at home, but that doesn't mean your preparation has to stop! You can use the whole platform in any device you wish with no issues.
Make your preparation laser-focused and only target the sections you need to improve on. Exams.Ninja makes targeting these areas easy as pie.
ALL YOU NEED TO DO IS FOCUS ON YOUR EXAM.
Training
Temple
Strategies for questions.
Practice
Dojo
Each section of the ECAA.
Exam
Arena
Practice with real papers.