The world's best PAT preparation.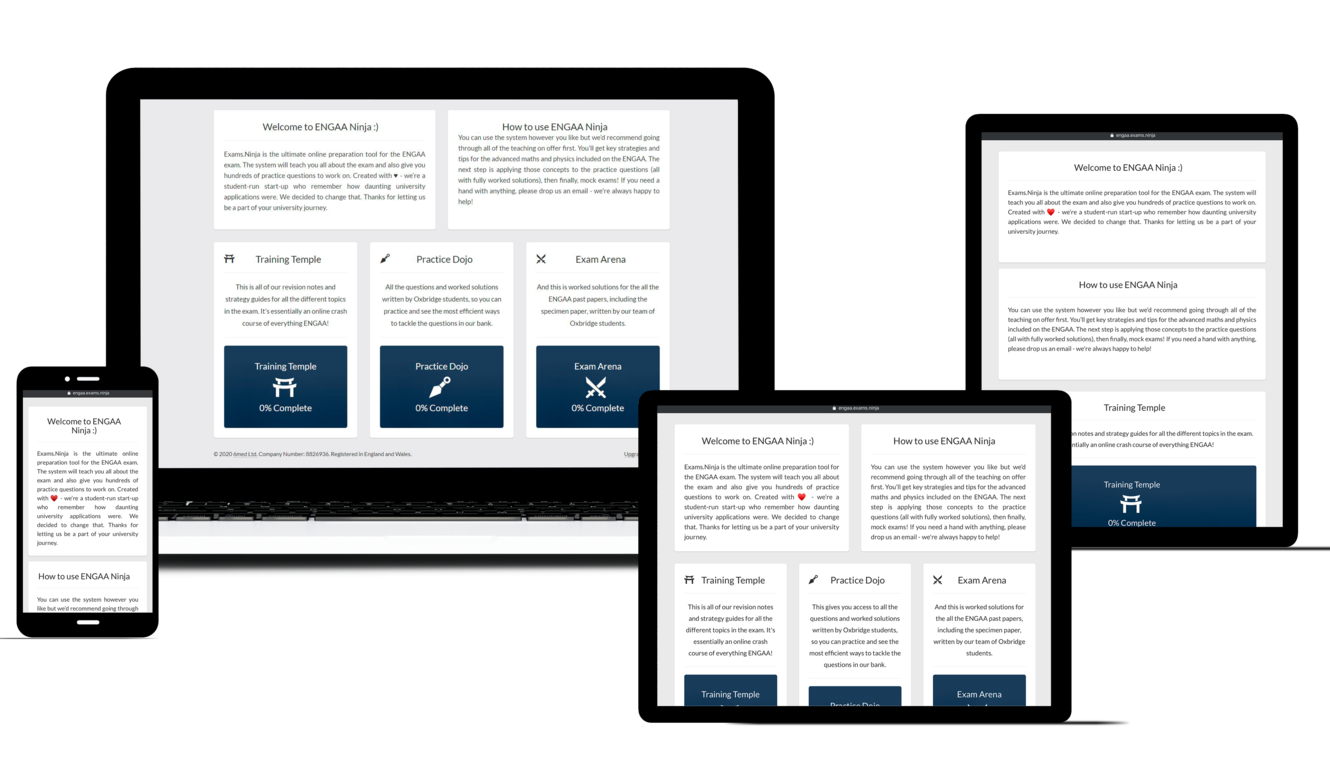 950+ PHYSICS & MATHS FOR PHYSICS QUESTIONS
100+ TUTORIALS ON ALL AREAS OF THE EXAM 
5 PAST PAPERS WITH WORKED SOLUTIONS
950+ PHYSICS & MATHS FOR PHYSICS QUESTIONS
100+ TUTORIALS ON ALL AREAS OF THE EXAM
5 PAST PAPERS WITH WORKED SOLUTIONS
The PAT made easy with Exams Ninja.
An intelligent system carefully crafted by PAT experts. Exams Ninja teaches you everything you need to know about the PAT. Preparation made simple. 

950+ questions covering physics and maths-for-physics topics on the PAT specification, complete with worked solutions for you to practice as much as you want. Practice makes perfect.

Full tutorials, strategy guides, comprehensive lessons and insider tips on all the relevant aspects of the PAT. Train like you mean it!

Practice in a real life-like environment answering timed real past papers to improve your score. Take as many simulated tests as you want.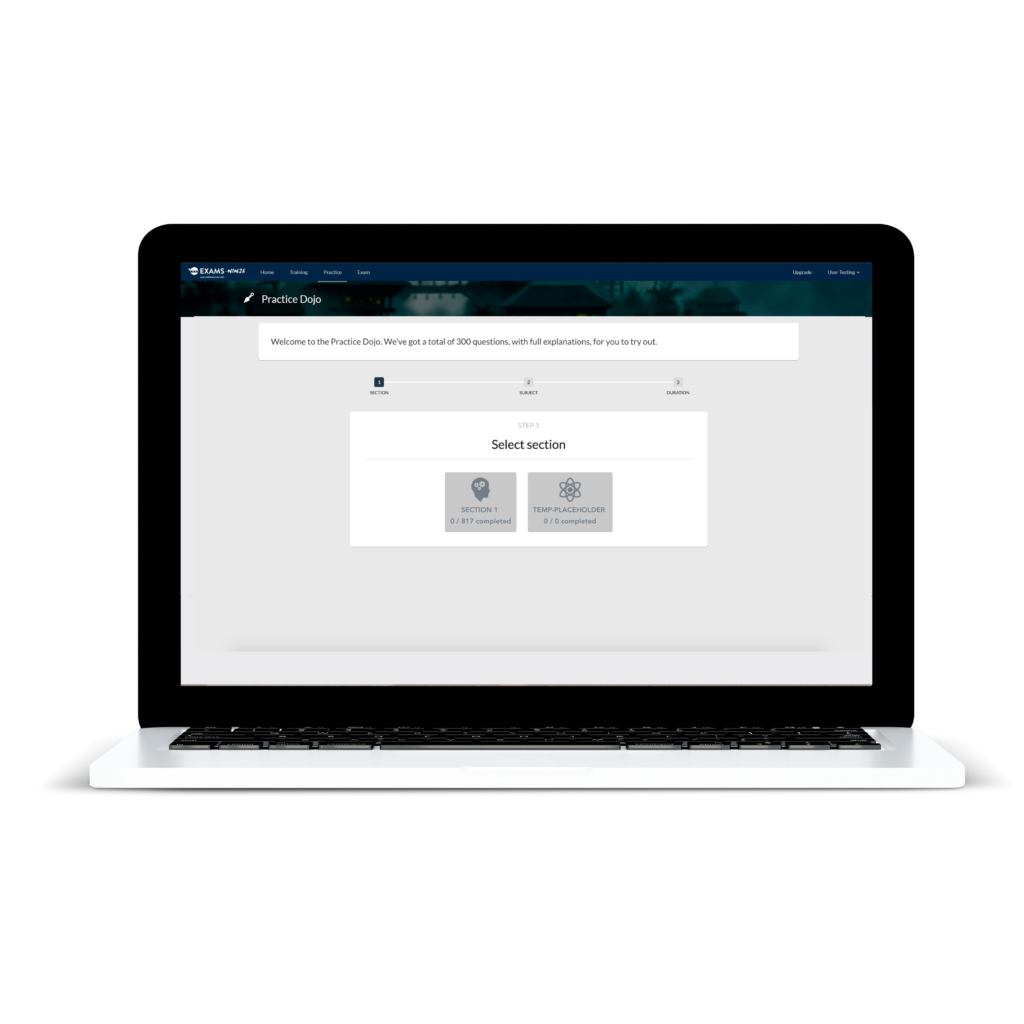 950+ questions and worked solutions on physics topics created by PAT experts, so you can practice and learn the most efficient ways to tackle the questions in our bank and prepare for the real test.

In the Training Temple you can go through all of our revision notes and strategy guides for every topic in the exam. Our experts will walk you through the trickiest subjects, providing an online crash course of everything PAT!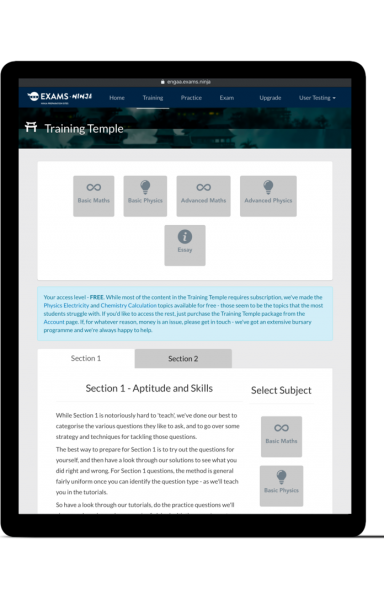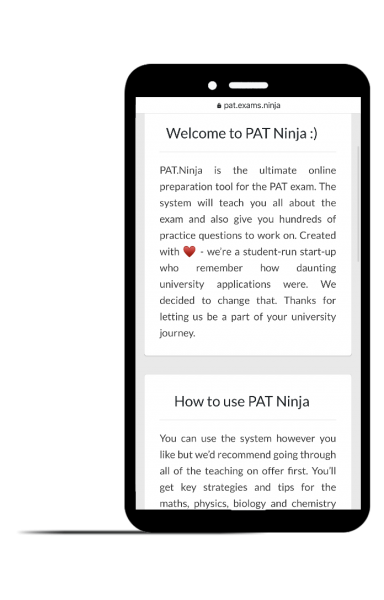 The PAT is a time-pressured exam. Exams Ninja's test simulator simulates the real-world exam environment. Practicing with our exam simulator ensures you aren't caught off guard on the test day. Maximise your score. Maximise your chances of getting into your dream college. There's no limit to how many practice tests you can take!
PAT Physics and Maths for Physics Questions
Work through practice questions for the Physics and Maths for Physics questions in the PAT. All written perfectly in the style of the exam. Get fully worked solutions for each and every one. Problem solved.
950+ unique questions for you to practice on, focus on the areas you want to improve and learn as you go.
Worked solutions for each question to help you understand the thought process that leads to the right answer.
Practice on the go with Exams Ninja, available with your subscription for desktop computers, tablets, and phones.
Timed Practice in Real Past Papers
The PAT is hard, we know. However, with PAT Ninja you'll be able to prepare for your test by going through timed real past papers that perfectly simulate the real test.
5+ Past Papers: answer them as many times as you want to prepare for your PAT.
Simulate the real test environment with our timed platform and grading system to identify our strengths and weaknesses.
Exams Ninja provides flexible learning on all devices, to help you prepare for the PAT at home or on the go.
Are You Ready For The Ninja Experience?
Completely Free with Limited Access – Boost your score rapidly with our state-of-the-art learning system.
Test The Entire Platform – Practice for your exam with limited access to all components of the platform.
Upgrade After Your Trial – Love using PAT Ninja? Upgrade your subscription to get full access to all the questions, lessons and simulated exams!