Your Definitive Guide to Choosing TSA or ECAA
Written by: Matt Amalfitano-Stroud
Interested in Economics? You must be wondering which degrees require the TSA, what ECAA means, and what key dates you need to know. So you don't feel overwhelmed, we are going to be covering different test sections, key dates, scoring, results information and much more. We understand you may have a lot of questions, so we've broken down your ECAA and TSA questions into one easy guide!
Please be aware that the ECAA is will no longer be sat by Cambridge Economics Applicants as of 2022. Applicants for Cambridge Economics will now be required to sit the TMUA. You can find out more information on the TMUA in our Definitive TMUA Guide.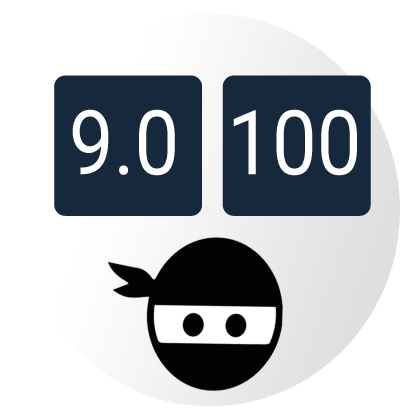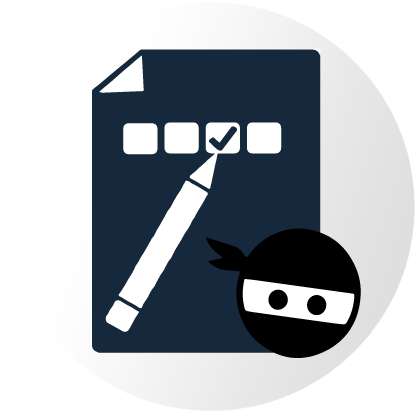 THE BASICS OF THE ECAA AND TSA
Let's start with the basics, what is the TSA and ECAA and why are they important?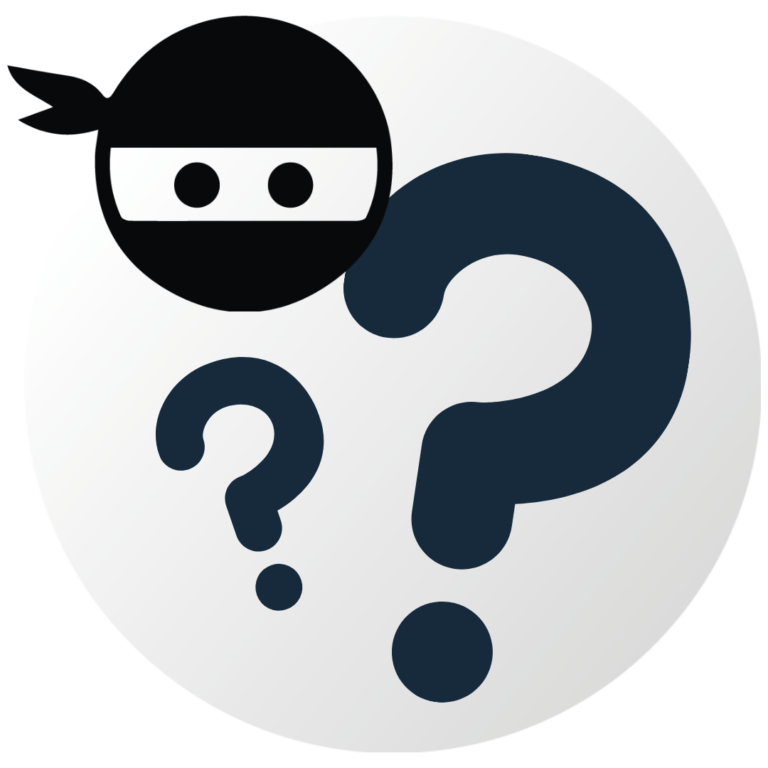 ECAA: The Economics Admissions Assessment (ECAA) is a two-hour written exam for students applying for Economics at Cambridge University.
The exam is designed to determine an applicant's eligibility for a degree that requires a lot of work. The questions are designed to assess the applicant's thinking and numeracy skills in unusual situations.
It was first used by Cambridge in 2008, and is regarded as a "Pre-interview" assessment which means you have to take it before your interview date. This should not be mistaken for an "at interview" assessment which is taken on the day of your interview.
The ECAA is often regarded as a challenging admissions exam. This is to assist distinguish between capable individuals who have excelled in school. The majority of economics candidates had scored above 90% in their A level subjects.
The Thinking Skills Assessment (TSA) is a two-hour aptitude test split up into a 90-minute, multiple-choice Thinking Skills Assessment and a 30-minute writing task for a number of different degrees, including Politics, Economics and Geography.
The TSA aims to assess problem-solving skills, including numerical and spatial reasoning and critical thinking skills, including the ability to understand an argument; and the ability to reason using everyday language.
Similar to the ECAA and other admissions tests, this test is used as applicants are often fairly similar on paper, with the majority of applicants receiving all A–A* grades and high GCSE scores. Applicants are also likely to have strong Personal Statements and references, making it harder to distinguish between them.
Multiple-choice assessment with 20 mathematics questions and 20 advanced mathematics questions. The time allowed for Section 1 is 60 minutes.
Section 1A – 20  Mathematics Questions
Section 1B – 20 Advanced Mathematics Questions
Both parts are scored separately on a scale between 1.0 – 9.0 based on the number of correct answers. There is no penalty for incorrect answers.
This is an extended essay responding to an excerpt from a text, you'll only be allowed 60 minutes for this section.
This Section does not have an official marking scheme but is marked by the admissions team at your chosen college. 
Section 1 has 50 multiple choice questions, 25 of which will be based around critical thinking, and the other 25 on problem-solving. You will be allowed 90 minutes for this section.
This section is scored on a scale between 1 – 100. 
You will receive 4 questions and you will be required to choose 1 to answer in the form of a short essay within 30 minutes. 
There is no word limit to your answer but you will be limited to 2 full sides of A4 paper to write on.
The general framework of both exams is similar, with both exams lasting a total of 120 minutes as well as having 2 sections.
However, the main split is within the ECAA which has a Section 1A and 1B, which is segmented into Mathematics and Advanced Mathematics. There is no split within the TSA but you do get 10 questions extra within Section 1.
There are differences within Section 2 also. You can choose from 4 essay questions with the TSA, whereas the ECAA gives only 1 question, which may be a benefit to some students. 
With the TSA you may also find that you do not need to necessarily sit both sections depending on which university you are sitting it for. Here you can see the requirements for each course that uses the TSA:
Degree:
R990 European Social and Political Studies (ESPS)
LV01 International Social and Political Studies (ISPS)
Structure:
Section 1 only
Degree:
Experimental Psychology
Geography
Human Sciences
Philosophy, Politics and Economics
Psychology, Philosophy and Linguistics
Economics and Management
History and Economics
Structure:
Section 1 and Section 2
Economics and Management or History and Economics applicants will be required to only take Section 1.
Here are all the key dates that you'll need for each of the exams. As you can see, there's a lot of overlap between the exams
What Are The ECAA Key Dates?
Deadline for modified papers
Deadline for ECAA & access arrangements
What Are The TSA Key Dates?
Deadline for modified papers
The ECAA has changed to the TMUA, but you can still prepare with Exams.Ninja!
Whether you're taking the TMUA or the TSA, the Exams.Ninja Preparation Platforms can help you make the most of your revision time and get a great score! With tutorials, practice questions and past papers, maximise your chances of success today.
WHAT DO I NEED TO KNOW FOR THE ECAA AND TSA?
Now we know how the TSA and ECCA work, let's take a look at what you'll need to know for each exam. Getting to know what each exam will test you on will help you prepare for each one.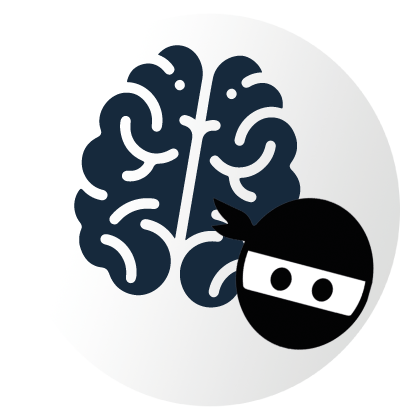 Both exams combine mathematics and diction skills into challenging questions that will take a lot of thought to answer correctly. However, you can save yourself a lot of time by understanding and practising these basic skills during your preparation!   
ECAA MATHS SKILLS REQUIREMENTS
Use standard units of mass, length, time, money and other measures.
Use compound units such as speed, rates of pay, unit pricing, density and pressure, including using decimal quantities where appropriate.
Change freely between related standard units (e.g. time, length, area, volume/capacity,mass) and compound units (e.g. speed, rates of pay, prices, density, pressure) in numerical and algebraic contexts.
Order positive and negative integers, decimals and fractions.
Understand and use the symbols: = , ≠ , < , > , ≤ , ≥ .
Apply the four operations (addition, subtraction, multiplication and division) to integers, decimals, simple fractions (proper and improper) and mixed numbers – any of which could be positive and negative.
Understand and use place value.
Understand and use scale factors, scale diagrams and maps.
Express a quantity as a fraction of another, where the fraction is less than 1 or greater than 1.
Understand, use and interpret algebraic notation; for instance: ab in place of a×b ; 3y in place of y +y+y and 3 ×y ; a2 in place of a×a ; a3 in place of a×a×a ; a2 b in place of a×a×b ; b a in place of a ÷ b
Use index laws in algebra for multiplication and division of integer, fractional, and negative powers.
The list is comprehensive and features in detail all the skills you'll need to smash the ECAA, you can find the full list here.
Typically, if you wish to pursue an undergraduate economics degree you do not have to be a maths genius to follow undergraduate micro and macro courses. However, if you are serious about wanting to an MSc then it will definitely help your chances of succeeding down the line.
TSA MATHS SKILLS REQUIREMENTS
Simple fractions
Place value (for example, knowing that the "5" in "7654" indicates "50")
Ideas about percentages (for example, the idea that 1% could be thought of as "1 in every 100").
The four rules of number (addition, subtraction, multiplication, division)
Percentage operations (for example, if something was sold at £10, and is now advertised at "20% off", how much would the customer pay?)
Calculations in everyday contexts (complex calculations with fractions and decimals are not required).
Area (including the calculation of the area of a rectangle)
Perimeter (including calculation)
Volume (including the calculation of the volume of a box)
Reflections (in mirrors) and rotations of simple shapes
Two-dimensional (2D) representations of three-dimensional (3D) shapes (for example, being able to interpret a "bird's eye view" of a house).
Recognition that some operations are generalisable, for example, that converting 24 to 3 and 40 to 5 both involve division by 8 (formal algebra is not required).
Tables and graphs
Extracting information from graphs
Extracting information from tables.
In regard to critical thinking, it is valuable to understand what "Critical Thinking" means for the TSA. It can be easily defined as "In an argument, reasons are put forward as grounds for a conclusion. The argument is a good argument provided its conclusion follows from the reasons. That is to say, if you accept the reasons, you must accept the conclusion. For the purposes of the Critical Thinking assessment, the reasons given should be accepted as being true.".
You can find a full specification for the TSA, including examples of questions for each section, on the Cambridge Assessments Admissions Testing website.
As you can see, a prerequisite knowledge of Mathematics A-Levels is important to performing well within the test. The above-mentioned considerations for both exams will most likely have been mastered by those studying A-Levels maths, so you shouldn't have too much to worry about if you're performing well in your A-Levels.
Remember though that your reading and writing skills are just as important for both tests. They're both very wordy so you'll need to be reading carefully to ensure you fully understand each question. 
HOW HARD IS THE ECAA OR TSA?
The burning question on everyone's mind is,
"How hard are these exams?" 
The answer to this question is dependent on your own skill-set and preferences, as each exam focuses on very different areas of problem-solving.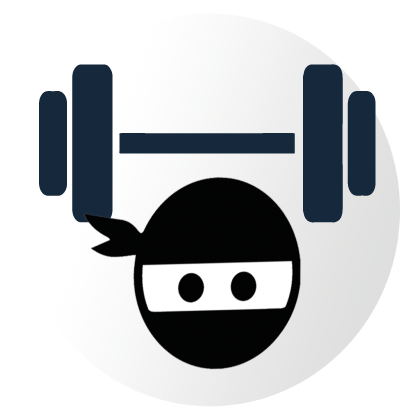 As we've seen already, the mathematics portion of the assessment is required for all applicants, but you'll then be free to choose which of the three core sciences you will answer questions on. Before making any decisions on how you'll tackle your revision, let's take a look at what each part will have in store for you.  
The ECAA is intended to be a difficult test that will push students to their limits. Unlike traditional academic exams, it is designed to assess a student's ability to solve problems and apply mathematical reasoning – mostly through the application of general mathematics knowledge. The nature of the exam will give students more skilled in pure mathematics an upper hand, but that doesn't immediately discount you if your maths needs some work.
The exam was developed to help distinguish genuinely exceptional students applying to Cambridge University. As a result, it is a demanding test, but one for which you can surely prepare.
The 120 minutes is chewed down quickly when you factor in there are 40 questions to work out and an essay to plan and write. Some students find it suits them to work quickly through the questions and then check back. However, this can be detrimental as you will spend 2-3 minutes double-checking and changing answers on the review. It is best practice to pace yourself steadily and spend equal time on each question.
"If you had all day to do the ECAA, you would get 100%. But you don't"
This is a great quote to describe the ECAA. Once you have practised and know how to tackle a question, time is your biggest enemy. 
Comments about the ECAA from students usually indicate the pressure they feel because of the time. It is a common theme around this exam, where students feel they need to rush through the questions and review their answers after. However, the best practice is to pace steadily and spend equal amounts of time on each question.
The TSA was developed to assist tutors and admissions teams in distinguishing between students who otherwise had extremely comparable credentials. This implies that the TSA is intended to be a difficult test used to separate a group of very talented candidates – so getting to take the test should be a sign that you have impressed the uni so far!
As mentioned before, a good grasp of maths will allow you to tackle the questions with confidence. Refer back to Cambridge Universities' maths skills required to do well in the exam. Good critical thinking and problem-solving skills will also give you a boost. Understanding why the reasoning is a perfect conclusion and casting aside the ones that aren't feasible is good practice.
Students find working through past papers till they achieve a score they are happy with is a great way of boosting their confidence for the real thing. However, similar to the ECAA, time pressure is what inevitably causes discrepancies and clouds your judgment.
'Please note that your performance in the pre-interview assessment will not be considered in isolation, but will be taken into account alongside the other elements of your application.'
University of Cambridge Admissions
It's important to do well in the test, but you shouldn't put all the pressure on this one aspect of the application. Many students who scored average or below were able to get a place in their course due to the strength of their interviews, personal statements and A-Level Grades. 
ECAA Or TSA Average Scores
ECAA SECTION 1A: MATHEMATICS
ECAA SECTION 1B: ADVANCED MATHS
ECAA SECTION 2: THE ESSAY (WRITING TASK)
TSA SECTION 1A: PROBLEM SOLVING
TSA SECTION 1B: CRITICAL THINKING
TSA SECTION 2: THE ESSAY (WRITING TASK)
ESSAY MARKED BY ADMISSIONS TUTORS
At first glance, the figure here would tell us that the ECAA is much harder, and that may well be true.
The greater emphasis on pure mathematics, along with the Section 2 essay, makes for a more varied and, in some cases, more challenging exam. 
However, there are a few things to note here. The ECAA exam is only used for one course at Cambridge, while the TSA is spread across a much wider variety of courses. This larger pool of applicants will of course lead to a lower average score as more people take the test. This is especially worth considering as these are the scores across all applicants, not just successful ones. 
But looking at these average scores, you're likely wondering how the universities mark the exam in the first place and what they use them for. That's what we will look at next!
How are the ECAA and TSA SCORED?
Let's take a look at how each exam is scored and what the universities will be doing with your results.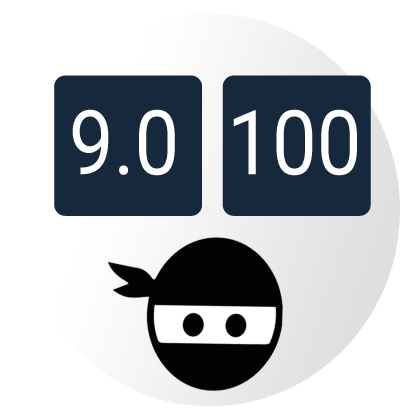 The ECAA is purely positively marked, which means there are no consequences if you answer incorrectly (apart from not gaining the mark of course). As a result, candidates should attempt each and every question that is presented to them. Section 1A (Mathematics) and Section 1B (Advanced Maths) are equally weighted. Section 2 is graded based on the argument you make and the clarity of your written work.
In 2021, the average score in the Advanced Maths portion was under 4.0. These figures show how difficult this test is.
Considering the average applicant for Economics at Cambridge is a student who has GCSE scores of 7 A* and 2 AS, they are only able to score just over 60% in the mathematics portion and 53% on this part.
In 2021 the Section 2 essay was scored by 2 separate metrics, the quality of content and writing proficiency. Content is marked on a scale of 1 – 10, while the writing proficiency is graded between A (high) and E (low). Here are the scores for all applicants during the 2021 admissions cycle. 
We can determine from this data that applicants generally found it easier to succeed in Section 2 than either part of Section 1. This could be down to a number of reasons, including the types of skills required to completed each section or the number of questions required for each. 
Section 1 consists of multiple-choice questions and can be broadly broken down into two categories of questions: Critical Thinking and Problem Solving. The second section is a 30-minute essay question on an unexpected topic. It is used to assess communication abilities as well as your capacity to be concise and convincing. The essay is sent to the appropriate college tutor for review.
The first section is graded on a scale of 1-100 by a computer. The average candidate to Cambridge has a score in the upper 50s. Only around 10% of pupils achieve a score of 70 or above.
Section 2 (for Oxford only) is graded at the discretion of the college you are applying to. Although the "mark scheme" will differ between each admissions teacher or tutor, all instructors are looking for the ability to organise concepts in a clear and simple manner.
As for the Critical Thinking score, we can see that the candidates performed overwhelmingly better than they did in the Problem Solving, with more being able to achieve over 70. 
The scores for Section 2 are unfortunately not made available as there is no consistent mark scheme to base results on. The essays are generally marked in a much more subjective manner due to the amount of personal preference that goes into judging an extended piece of writing.
However, some elements of writing will always be objectively and consistently marked, including spelling and grammar. 
As a summary, the TSA differs when it comes to Section 2 as the essay is sent to admissions tutors along with the marks achieved for Section 1. All sections of the ECAA are marked under one roof. 
As we've already mentioned different admissions tutors and teachers will have different standards and preferences when it comes to essay writing. You won't be able to tailor your essay to your specific marker as you will not know who you're writing for!
The main question to grasp when it comes to this is what the difference is between admissions tutors and admissions teachers. This can easily be answered by understanding who both are. As a point of reference, admissions tutors did not get into the business to teach. They are academics who have devoted their lives to researching their subject.
Teaching undergraduates is how they essentially pay their way in the academic world. This should be considered not just when they will be marking your paper but also when they are interviewing you. They are not there to teach you but rather looking for students who they feel will be interesting to teach.
This does not mean you need to blow their mind with your intelligence nor change the way they conduct their teaching, but showcase to them to an extent you feel the same way about the subject as they do.
As an example, Oxbridge colleges are ranked by their academic performance, any drop in performance will subsequently damage their rankings so they will be looking for someone who performances well and gets good grades. Whilst showing passion is important, your final score is the major determinant of your success.
How are these exams actually used within your application though? Here's a quick explanation for each:
It depends on the college you're applying to, as different sections of the test will have varying weights. If you have your heart set on a certain college, you should email the admissions office to find out what they will be searching for.
For example, Girton College might search for individuals who did well on the mathematical component, whereas Churchill might give the maths and essay sections equal weighting.
Churchill quote "in deciding who to call to interview, we will only use performance in admissions assessments positively, not negatively, i.e. no one will be ruled out of interview by their performance in an admissions assessment, but applicants who perform strongly in an assessment, but who otherwise we were not planning to call to interview, may be invited."
Similar to the ECAA, this may vary depending on your admissions tutors as well as universities and colleges. For Oxford, typically the TSA Section 1 will be given high importance alongside GCSE and A-Level predicted grades.
As mentioned before, it is important to consider the admissions tutors who mark the essay section of your exam. Admissions tutors assess whether candidates have the right skills and aptitudes that are required to study at the highest level.  They will consider the candidate's ability to think critically, reason analytically, and if they use language effectively and accurately.
Exams.Ninja will help you boost your score, whichever test you take.
Remember, the ECAA has been replaced with the TMUA, but the TSA will remain the same. With the TMUA and TSA Preparation Platforms, you'll be able to access hundreds of practice questions across every section of both exams. Each one has a worked solution to give you a complete understanding of everything you need to know to get a great score!
Once you've made your decision, get a head start on your revision to maximise your chances of success. 
EXAMPLE PRACTICE QUESTIONS
With all of the context out of the way, it's time to look at the actual content of the exams! We've prepared a collection of practice questions with worked solutions from each exam for you try.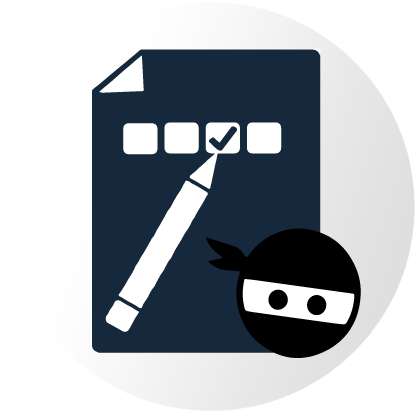 Firstly, let's take a quick look at what each of the exam papers looks like. These are typical pages taken from past papers.
The layout of each paper is very different from one another, as you can see.
Section one of the ECAA looks very similar to a typical maths exam, while the TSA is a lot more focused on lengthier written questions based on general problem solving and critical thinking. This was to be expected however due to how different the papers are to sit in Section 1.
However, Section 2 is also considerably different between the two papers. In this case, it's the ECAA that fills the page up with text, as you'll need to analyse the exert given rather than constructing an argument on a single statement like you'll be doing in the TSA. The choice of question that the TSA provides is also an obvious difference. 
Let's have a go at a few practice questions from each exam to see which one you may prefer sitting. 
ECAA Section 1A Practice Question
Bill wants to lay down laminate flooring in his living room, which has an in-built circular fish tank that he will have to lay the flooring around. He has decided to buy planks that he can cut to fit the dimensions of his room. He must, however, buy whole planks and cut them down himself. The room's dimensions are given below, as are those of one plank. Calculate the number of planks needed to cover the whole floor. Take π = 3.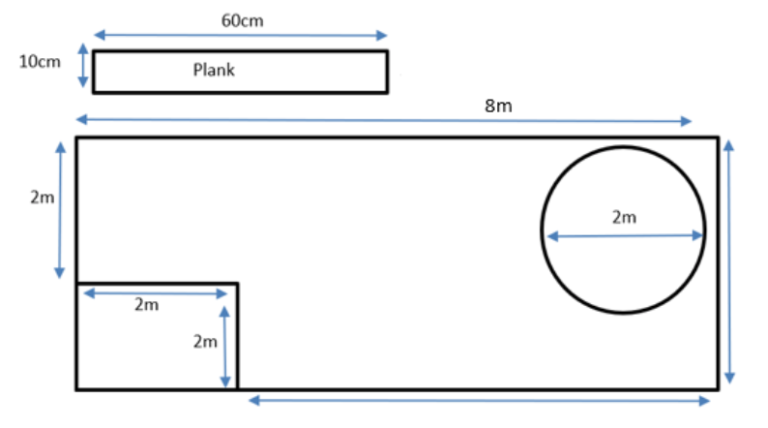 A) 30 
B) 417 
C) 600
D) 589
E) 43
The correct answer is B.
There are several steps to working out this problem. The first is to work out the area of the entire floor, minus the fish tank and the cut out corner. The length of the room is 8m and the width is 4m. So, the area of the entire room is 32m2. 
The cut out corner is a square with the dimension 2 x 2m. Thus, the area of the cut out corner is 4m2. 
The fish tank is a circle, and thus its area can be worked out using πr². π is taken to be 3 and thus 3 x 1² = 3²m2. Therefore, the floor area, Bill needs to cover is 32 – (4 + 3) = 25m2.
We then need to work out the area of one plank. The dimensions of this are in cm and so we need to convert to m. 1m is 100cm and so we can say that the length of the plank is 0.6m and the width is 0.1m. Thus, the area is 0.6 x 0.1 = 0.06m2.
To work out the number of planks, required, we need to divide the area of the floor space by the area of the plank. A quick way of doing this would be rounding the area of the room down to 24 and multiplying the area of the plank by 100 so it becomes 6.  24 ÷ 6 = 4, then because we multiplied the area of the plank by 100, we then multiply the answer by 100 which gives us 400 planks. The closest answer to our solution is 417, which is listed as B.
ECAA Section 1B Practice Question
The expansion of (k + x)5 has at least two terms with the same coefficient, as does the expansion of (1 + 2kx)². How many possible values of k are there?
A) 2/105
B)105/2
C)107/3
D) 3/107
E) 109/4
The correct answer is D.
(1 + 2kx)² = 1 + 4kx + 4k²x² is much smaller and easier to work with. If two of these coefficients are equal, either 1 = 4k (so k = 1/4), 1 = 4k² (so k = ± 1/2) or 4k = 4k² (so k = 0 or 1)
We must then only check these values in the expansion of (k + x)5 = k5 + 5 k4x + 10k3x2 + 10k2x3 + 5kx4 + x5.
It is clear if k = 0 or k = 1 that there are equal coefficients here. 
If k = 1/4, the coefficients are 1/1024, 15/526, 5/32, 5/8, 5/4 and 1, of which no two are equal. 
If k = ± 1/2 the coefficients are ± 1/32, 5/16, ± 4/5, 5/2, ± 5/2, 1. 
It is clear that there is in fact an equality, but only for k = 1/2. 
Thus, there are 3 valid values of k.
ECAA Section 2 Practice Question
In 1972, the teenage king of Bhutan, Jigme Singye Wangchuck, declared that "gross national happiness is more important than gross domestic product". The sound bite has been echoed approvingly down the years, although the king may just have been making excuses. Bhutanese GDP per person was then the grinding poverty of about a dollar a day. If I were king of such a country, I'd be tempted to change the subject, too.
Clearly he had a point. Most of us would rather be poor and happy than rich and depressed. If so, gross national happiness seems a fine goal. But it is one thing for a monarch to announce that happiness is important. It's quite another to make people happy. Shangri-La does not move from fiction to reality just because we desire it.
Bhutan has not always lived up to its own hype. Same-sex intercourse is illegal, which suggests a country with a less-than-expansive view of whose happiness matters. Three decades ago, around 100,000 of the Nepali-speaking Lhotshampa minority fled Bhutan to escape military persecution during a campaign of ethnic cleansing on a colossal scale. One-sixth of the entire population of Bhutan ended up in refugee camps in Nepal.
Even setting aside this enormity, it's hard to see that Bhutan paid much more than lip service to gross national happiness. They hosted conferences, but according to a recent IMF working paper, nobody in the government collected systematic indicators on happiness until 2005. The World Happiness Report ranks Bhutan at 97th out of 156 countries, down from 84th a few years ago. Happiness is easy to venerate, but hard to generate, and even harder to measure. 
Consider some of the issues that are notoriously bypassed by GDP, the most common measure of economic activity: digital services are hard to value, while by design GDP omits any consideration of inequality or environmental damage. Unpaid work — of which men do a great deal, and women a great deal more — is also left out.
But if our aim is (for example) to reduce carbon emissions, we don't achieve it by moaning about GDP. We achieve it with specific policies such as carbon taxes and investments in public transport and a renewable-friendly electric grid. Neither gender equality nor respect for unpaid work would be automatically improved by any change in the way national income accounts are computed.
The specifics matter when it comes to happiness, too. Broad research into the causes of national happiness has tended to produce banal conclusions: we tend to compare ourselves to others, unemployment makes us miserable, and we hate being ill. There is nothing here to suggest that we need to overhaul commonplace policies such as redistributive taxation, the avoidance of recessions, and support for public health.
Just as with GDP itself, it is only when we move to the specifics that gross national happiness becomes useful. Richard Layard, one of the leading happiness researchers, argues that mental illness is a leading cause of misery, and that it can be treated very cost-effectively. That seems useful enough to me, but that doesn't seem to require economists' focus to realise.
QUESTION
"Economists should be more concerned with happiness and wellbeing than GDP." 
Discuss with reference to the passage above.
Example Plan
Introduction: Set the scene… 
Define "concerned with". This could mean "focus on…" or "worried about". Here I take it here to mean a that latter because it allows for a more expansive essay, however either would be appropriate given context.

 

The key question to be answered is therefore: Should economic analysis and policies be focussed on improving a nation's happiness, instead of conventional measures of wealth and prosperity?

 
Paragraph 1: Just because it's better doesn't make it the focus… 
Traditionally economic analysis and economic policies have been focussed on promoting economic growth conventionally measured through GDP per capita. The article makes the assertion that "many of us would rather be poor and happy, than rich and miserable".

 

On this logic, economists and the policies they devise to help governments, should be focussed on generating happiness for people rather than wealth.

 

Yet this assumes that economists and their policies should be focussed on outcomes that are most desirable, without paying attention to pragmatics.

 
Paragraph 2: Challenge 1 – It isn't pragmatic to be concerned with happiness… 
One reason for economists remaining focussed on GDP is that it isn't pragmatic to be focussed on the alternative; namely happiness and wellbeing.

 

Happiness is notoriously hard to measure. As the article explains generic measures of happiness are subject to the same criticisms as GDP (see paragraph 7 in the article).

 

Equally it is not clear that happiness is the same for every person. Whilst wealth is somewhat consistent across individuals e.g., more money and better-quality stuff = more wealth; it is not clear that what makes me happy makes any other individual happy. In a world where policy is general and impacts all, economists cannot aim to please everyone.

 
Paragraph 3: It isn't right to be concerned with happiness… 
This all assumes thus far that happiness is what economists should be concerned about if only it were possible to measure and practical to increase.

 

However, GDP has a lot going for it, indeed it has remained the headline measure for the IMF even for Bhutan for much of the last few decades (paragraph 4).

 

The criticism of GDP in paragraph 5, makes a compelling case against its general nature, but whilst it advocates for measuring specifics, it does not say that national income (GDP) is the wrong measure entirely.

 

Indeed, measuring wealth/national income is crucially important – without it public services cannot be provided, a country struggles to trade for things it needs and its people have limited access to resources, capital or goods that are required for living a reasonable quality of life.

 

There is therefore a compelling argument for national income/GDP to remain the concern of economists for both analysis and policy purposes.

 
Conclusion
Summarize the points:

The article seems to suggest at points that happiness should be the concern of economists, above GDP and that it should be considered with specificity to be useful to economists.

 

Having decided in this plan to argue against the statement summarise your three points:

 

Take the assertion that happiness is more important than GDP to be right however this isn't enough to suggest that it should be the primary concern of economists.

 

It isn't pragmatic to be concerned with happiness and therefore it shouldn't be the primary concern

 

It isn't even right to be concerned with happiness anyway.

 

Zoom out and say why the question really matters and conclude.

 
TSA Section 1 Critical Thinking Practice Question
WilderTravel Inc. is a company which organises wilderness travel holidays, with activities such as trekking, mountain climbing, safari tours and wilderness survival courses. These activities carry inherent risks, so the directors of the company are drawing up a set of health regulations, with the aim of minimising the risks by ensuring that nobody participates in activities if they have medical complications meaning that doing so may endanger them. 
 They consider the following guidelines:
'Persons with pacemakers, asthma or severe allergies are at significant risk of heart attack in low oxygen environments'. People undertaking mountain climbing activities with WilderTravel frequently encounter environments with low oxygen levels. The directors therefore decide that in order to ensure the safety of customers on WilderTravel holidays, one step that must be taken is to bar those with pacemakers, asthma or allergies from partaking in mountain climbing.
Which of the following best illustrates a flaw in this reasoning?
A) Participants should be allowed to assess the safety risks themselves, and should not be barred from activities if they decide the risk is acceptable.
B) They have assumed that all allergies carry an increased risk of heart attack, when the guidelines only say this applies to those with severe allergies.
C) The directors have failed to consider the health risks of people with these conditions taking part in other activities.
D) People with these conditions could partake in mountain climbing with other holiday organisers, and thus be exposed to danger of heart attack.
The correct answer is B.
The passage is discussing how banning those with the mentioned medical conditions from mountain climbing are essential to ensuring safety. It does not claim that this is sufficient to ensure safety, simply that it is necessary. Thus C is irrelevant, as risks from other activities do not affect the risk from mountain climbing. D is also irrelevant, because the argument discusses how it is essential to ensure safety of people on WilderTravel holidays, so those using other companies are irrelevant. A is an irrelevant statement because the passage is discussing what should be done to ensure safety, not whether this is the morally correct course of action. Thus, a discussion of whether people should choose to accept the risks is not relevant. However, B is a flaw, because the guidelines only mention those with severe allergies, so thinking those with less severe allergies are in danger is a false assumption that has been made by the directors. 
TSA Section 1 Problem Solving Practice Question
Michael, a taxi driver, charges a call out rate and a rate per mile for taxi rides. For a 4 mile ride he charges £11, and for a 5 mile ride, £13. 
How much does he charge for a 9-mile ride?
A) £15
B) £17
C) £19
D) £20
E) £21
The correct answer is E.
Working algebraically, using the call out rate as C, and rate per mile as M.
So,    C + 4m = 11
C + 5m = 13
Hence; (C + 5m) – (C + 4m) = £13 – £11
M = £2
Substituting this back into C + 4m = 11
C + (4 x 2) = 11
Hence, C = £3
Thus a ride of 9 mile will cost £3 + (9 x £2) = £21.
TSA Section 2 Example Essay
Is globalisation a threat to nations?
Globalisation, the process by which people and countries become more closely integrated across the planet, brings with it a number of benefits to individuals, businesses, and countries. These include the development of free trade and improvements to the mobility of labour. However, it also brings with it certain dangers, including environmental harm and exploitation of developing nations. Despite these dangers, globalisation presents more of an opportunity to nations than it does a threat.
Globalisation is generally considered to be an economic issue. The removal of barriers between nations allows for increased interaction, and opens up a truly international marketplace. Over the last century, technological developments in the fields of transport and communication have allowed for a significant increase in worldwide trade. The birth of the internet and the expansion of the aerospace industry have made the world a much more connected place, and businesses have capitalised on these advancements.
Imports and exports, once considered a rarity, are now a huge part of day to day life and consumers reap the rewards. Increased choice and lower prices are just some of the economic benefits to consumers brought about by globalisation, whilst businesses profit from access to new output markets. Nations have benefited from an increased quality of life, driven by the availability of import markets, and higher economic growth, driven by the availability of export markets.
A second economic benefit stemming from globalisation has been the increased free movement of labour. Globalisation has allowed workers to move between nations more freely, due to the removal of many existing barriers to geographical mobility of labour. This issue is a controversial one, with many citizens of developed western economies unhappy at the additional strain immigrants who fail to work place on their welfare system, but theoretically advantages all nations. Those economies with high levels of unemployment will see their workers move elsewhere for jobs, relieving the strain on the nation's welfare system. Simultaneously, those countries which have excess jobs that need filling gain access to a vastly expanded labour market, and can use immigrants to promote the economic growth they are pursuing. This has seen to be effective in areas such as the EU, where the removal of labour mobility barriers has caused many Eastern Europeans to migrate west.
However, it is worth considering that these perceived economic benefits may come at a price for some nations. One threat of globalisation is that it makes developing economies increasingly vulnerable to exploitation from external sources. In particular, the increased access multinational corporations have to the resources of underdeveloped nations has the potential to be extremely damaging. Many struggling countries in Africa and Asia have seen increased activity from these international businesses, which are afforded the opportunity to extract resources for less than they would pay in a more established economy. This "investment" may initially seem beneficial to the nations involved, but in reality they would be better served using such resources domestically. Similarly, the global labour market may provide a "drain" which absorbs skilled workers away from the nation to take up positions abroad. These events are likely to impair the economic development of such nations, rather than provide the expected benefits of globalisation.
One further threat brought about by globalisation is that of environmental damage. As has been established, globalisation assists international capitalism through improved transport and communication links. However these links rely heavily on use of non-renewable, carbon based energy sources. Globalisation stimulates huge demand for such resources, to power everything from aeroplanes to computers, and nations suffer serious environmental damage as a result. Rising pollution levels and climate change pose real threats to the future of all countries, which if left unaddressed may result in serious international problems. It has been argued that this is not so much an issue with globalisation, but rather with the current methods of supporting globalisation. It is true that this is a threat that may be rectified in the future, but that makes it no less of a threat.
With careful consideration of all these arguments, globalisation should be seen as an opportunity for nations to benefit economically through increased trade and labour mobility. However, this does not mean that globalisation comes with no dangers. Legislators and governments must ensure that globalisation does not lead to the exploitation of developing nations, or to the exploitation of non-renewable resources, or they risk allowing globalisation to become a threat to nations. 
Examiners Comments:
Initial Comments:
Upon first examination, this essay appears carefully considered, well structured, and concisely executed. The format is exactly what is expected, with a clear introduction and conclusion forming crucial elements of the overall structure. There appears to be a balanced consideration of more than one argument, with a logical judgement reached. One possible criticism may be that the candidate addresses the question purely from an economics perspective, and fails to investigate other interpretations of the issue. However, the response is a perfectly valid if they are applying to an Economics related course.
Introduction:
This is a very strong introduction. It is clear, concise, and immediately addresses the question. The applicant introduces the arguments which will follow, without wasting any time or space delving deeper than they need to. It is easy to predict how this essay will unfold after reading the introduction, which is a good indicator of a well-crafted opening.
Main Body:
The candidate clearly raises two arguments in support of the question, and two against it, and provides a well-balanced argument. There are a suitable number of points raised to allow each one to be explored fully without rushing. The candidate successfully addresses one idea per paragraph, and all the points are justified well. The points made are well supported to form a solid progression of ideas.
The logical flow of arguments is good, with clear signposting used throughout to indicate the direction the essay is taking. The candidate chooses to examine all arguments in favour of globalisation, and ensures that these are fully addressed, before moving on to criticisms. This provides a nice structure to the essay, and allows the reader to develop their own judgement alongside that of the applicant.
Conclusion:
The conclusion reaches a definitive judgement, and shows that the applicant has formed their own opinions on the subject. There is no correct answer to a question such as this, and the conclusion is rationalised well. The final point, which suggests that if governments are not careful, globalisation could move from being an opportunity to a threat, is a nice addition that displays careful consideration of all the factors at work. Overall, the conclusion accomplishes its purpose well.
Final Comments:
From start to finish, this is an impressive essay. The question seems to have been seriously considered, and the response itself is very carefully constructed. The one criticism that may be raised is that the essay is rather conventional and prosaic, but given the constraints of the task this is not surprising. The applicant clearly demonstrates great ability to communicate their ideas effectively, and engages with the question thoroughly to reach a personal conclusion. Overall, the work seems representative of that of a strong Oxford candidate.
From the structure of the ECAA you are able to depict the exam as heavily maths centric. You can tell from the topics covered in Section 1A and 1B that they are testing students' mathematics skills as well as their Advanced Maths skills. When you compare this to the TSA exam which tests students' critical thinking skills and problem-solving skills, the TSA is an exam in which predominately students whose strengths may not lie in mathematics but rather thinking skills and problem-solving.
Now you know the details about each exam and have tried a few questions from both, you should now know if the entrance exam will affect your options for university courses. 
Some people may be confident taking either one, but some may find that taking the ECAA or TSA may reduce their chances of getting a place in their chosen course. If this is the case, there's absolutely no shame in that, as everyone has different skills, especially in academic study.  The admissions test is often the first taste you'll get of what you should expect from the full course, so if you find that one exam doesn't suit you're writing or problem-solving capabilities, then that course may not be the right choice for you in the first place.
Whatever you decide, you'll need to revise hard in preparation, as neither exam is a walk in the park!  
If you want to learn more about either of the exams, you can check out our definitive guides on the ECAA and TSA.
The ECAA has changed the the TMUA, but you can still prepare for it with Exams.Ninja!
With our TMUA and TSA Preparation Platforms, you'll get access to tons of resources,  including:
Training Temple- exclusive tips, essay guides and tons of expert tutorials to shape your exam skills.
Practice Dojo- hundreds of questions covering every Section in the TMUA or TSA. You'll get a fully explained answer for each so you don't miss any useful information. 
Exam Arena- Attempt a collection of Past Papers from both exams. You'll take them in a simulated exam scenario and each attempt will be fully marked using the official grading scheme.
Start your TMUA or TSA preparation today and maximise your chances of success.